HOME
|
The Official Gefen Publishing House Website -
One Stop Webstore for Jewish Books and Hebrew Studies Textbooks From Israel
|
Join Email
List
|
Contact
us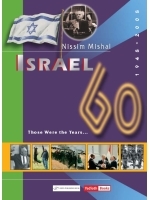 Israel 60

Those Were the Years
Author:
Nisim Mishal (editor)
Publisher: Gefen Publishing House
Price: $68.00
Special Price: $60.00
Buy from Gefen for this special price!
Format:
Hard Cover
ISBN 10:
965482731X
ISBN 13:
978-9654827317
Catalog Number:
9789654827317
Number of Pages:
400
Year Published:
2008
Description:
In the pages of this book, Israel 60, we proudly present you with the sequel to Those Were the Years - Israels Jubilee, relating the full story of the State of Israel since it was established to this very day.
Discover the full story of the State of Israel since it was established to this day. Year by year, the drama of this states history is studied and analyzed, covering the most important events in politics, security, art, sports, and its residents everyday life. The texts are accompanied by authentic pictures of the best photographers who captured the moments with their cameras.
The crown jewels in this book are 60 articles – one for each year – that discuss the years most important event or most influential figure. They are authored by some of Israels most prominent writers, poets, philosophers, politicians, political leaders, army commanders, journalists, and media persons.
The tale of Israels 60 years of existence is the most exciting, dramatic, and fascinating story of the 20 the century and beyond. We, the Israelis, find this hard to comprehend and appreciate because we live the stories we are too close to them. This book, however, can be read as a moving, sad, and exciting story that may be difficult at times, but is always
fascinating.