HOME
|
The Official Gefen Publishing House Website -
One Stop Webstore for Jewish Books and Hebrew Studies Textbooks From Israel
|
Join Email
List
|
Contact
us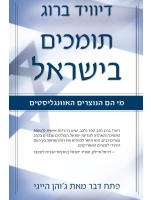 Standing With Israel (Hebrew)

Tomechim Beyisrael
Author:
David Brog
Price: $25.00
Buy from Gefen for this special price!
Format:
Paperback
ISBN 10:
9652294284
ISBN 13:
978-9652294289
Year Published:
2008
Description:
Many people do not understand or know how to explain Christian Zionism. Some question why evangelicals should support Israel. Based on theological and historical research, David Brog makes persuasive appeals to Christians to embrace Israel and to Jews to overcome their fears of Christian Zionists.
Focusing on a subject that has been covered by various national media, including the Wall Street Journal, 60 Minutes, and Nightline, Standing With Israel goes beyond politics to:
- Profile leading Christian Zionists and detail the views and motives that drive their politics.
- Spotlight Jews who have been at the forefront of forming a budding alliance with Israelís Christian allies.
- Explain why so many American Jews are deeply uncomfortable with this outpouring of Christian support.