HOME
|
The Official Gefen Publishing House Website -
One Stop Webstore for Jewish Books and Hebrew Studies Textbooks From Israel
|
Join Email
List
|
Contact
us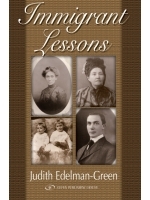 Immigrant Lessons
Author:
Judith Edelman-Green
Publisher: Gefen Publishing House
Price: $21.95
Buy from Gefen for this special price!
Format:
Hard Cover
ISBN 10:
965-229-413-6
ISBN 13:
9789652294135
Catalog Number:
9789652294135
Number of Pages:
264
Year Published:
2007
Description:
"Every time you leave something that has defined you – a lover, a stage of life, a marriage, a country – you are an immigrant, learning immigrant lessons the hard way."
Immigrant Lessons is the story of two women, forty years apart, crossing the sea to the shores of their promised land – one fleeing Hitler, the other pursuing her spirituality – and finding gain as well as loss in the transition. With unusual candor and insight, this warm, lively, and at times laugh-out-loud funny book explores in rich color the rewards and challenges of immigration and family relationships. Part memoir, part lyrical prose poem, Judith Edelman-Green's fluid tale of dislocation and change, enrichment, growth, and just plain survival will appeal to anyone who has ever been displaced, by circumstance or by choice.