HOME
|
The Official Gefen Publishing House Website -
One Stop Webstore for Jewish Books and Hebrew Studies Textbooks From Israel
|
Join Email
List
|
Contact
us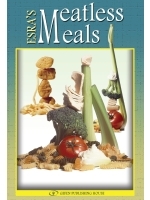 ESRA's Meatless Meals

Publisher: Gefen Publishing House

Price: $12.95
Buy from Gefen for this special price!
Format: Paperback
ISBN 10: 965-229-407-1
ISBN 13: 978-965-229-407-4
Catalog Number: 9789652294074
Number of Pages: 168
Year Published: 2007

Description:
Ever wonder what to make for the vegetarians in your family? Or maybe you just want something new to add to the menu? ESRA's new cookbook, Meatless Meals has the answer for you.
This cookbook is filled with a delicious and versatile range of pastas, kugels, wraps, tofu dishes, fish dishes, rice and lentil recipes, vegetarian main dishes and egg and cheese creations. The recipes have been collected from ESRA members' kitchens and have all been twice tested to ensure their quality. They are easy to prepare and delicious to eat.
Like our previous cookbook success, Soups & Salads, Meatless Meals is a fund-raiser for ESRA. The English Speaking Residents Association (ESRA) is a dedicated group of native English-speaking volunteers raising funds to support community projects in the areas of special needs, social problems and training programs for immigrants to Israel.
Gefen is proud to be part of this publishing & fund-raising project. Meatless Meals makes the perfect gift for friends and relatives.