HOME
|
The Official Gefen Publishing House Website -
One Stop Webstore for Jewish Books and Hebrew Studies Textbooks From Israel
|
Join Email
List
|
Contact
us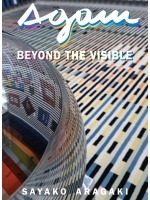 Agam Beyond the Visible (New and Revised)
A Key to the Secret of Agam
Author:
Sayako Aragaki
Publisher: Gefen Publishing House
Price: $30.00
Special Price: $22.00
Buy from Gefen for this special price!
Format:
Hard Cover
ISBN 10:
965-229-405-5
ISBN 13:
978-9652294050
Catalog Number:
405-0 / g113
Number of Pages:
304
Year Published:
2007
Description:
Acclaimed artist Yaacov Agam fundamentally challenged the accepted idea of art as a fixed image. Sayako Aragaki, once a curator for an Agam exhibition, elaborates on the Jewish aspects of Agamís work from a Japanese perspective.
Sayako Aragakiís book recalls in a concise and vibrant way the various stages of a work which, during the last half century, did not cease developing in many directions, while
remaining faithful to the vision of the artist.
From review of Marc Scheps, former director of the Tel Aviv Museum of Art and the Ludwig Museum, Cologne.