HOME
|
The Official Gefen Publishing House Website -
One Stop Webstore for Jewish Books and Hebrew Studies Textbooks From Israel
|
Join Email
List
|
Contact
us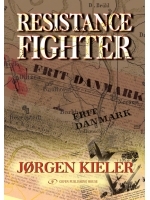 Resistance Fighter

Author:
Jørgen Kieler
Publisher: Gefen Publishing House
Price: $29.95
Buy from Gefen for this special price!
Format:
Hard Cover
ISBN 10:
9652293970
ISBN 13:
9789652293978
Number of Pages:
001
Year Published:
2007
Description:
Writing in lively tones with a wit that reveals his indomitable spirit, the author paints a vivid picture of the resistance movement in Denmark, with detailed descriptions of many of the Holger Danske groupís daring sabotage operations.
Reviews:
As a 6 yr old boy, in 1949, I lived with my step parents in a British Officer's commandeered house within a few hundred yards of the Porta Westfalica camps and underground factories where Jorgen and so many suffered. of course, at such an age, I was totally unaware of what had transpired in this truly scenic place.
Reading Jorgens's descriptions of the atrocities he survived (and so many did not) chilled me to the bone, especially knowing that a few scant years after he returned to Denmark I would be having dinner in the same building where he was billeted in such horrible conditions. It brought me to tears reading it. I was also enraged.
James Dylan Rivis
Montpelier VT USA