HOME
|
The Official Gefen Publishing House Website -
One Stop Webstore for Jewish Books and Hebrew Studies Textbooks From Israel
|
Join Email
List
|
Contact
us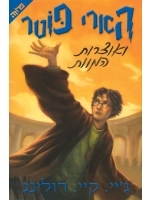 Harry Potter and the Deathly Hallows (Hebrew)
Harry Potter VeOtzerot Hamavet (Book 7)
Authors:
Gili Bar-Hillel (Translator)
J.K. Rowling
Price: $54.00
Special Price: $40.00
Buy from Gefen for this special price!
Format:
Paperback
ISBN 10:
B000X8MDCC
ISBN 13:
0036200036266
Year Published:
2008
Description:
Harry Potter and the Deathly Hallows, book 7 of the Harry Potter series. The transliterated Hebrew title is Harry Potter Ve-Otzerot Hamavet. Read about Harry's seventh and final year at Hogwarts.
Reviews:
Compare prices on Harry Potter 7 in Hebrew!
The Hebrew translation of Harry Potter and the Deathly Hallows is being offered on this site at the best price available anywhere, as far as we can tell. $36.00 (The list price on Amazon.com is 48.95) plus your choice of ups shipping in North America. (Our books ship from Israel if your shipping address is anywhrere else)
This price comparison was done on Jan. 1, 2008.
The price of the book that displays above may be different at the time you place your order.