HOME
|
The Official Gefen Publishing House Website -
One Stop Webstore for Jewish Books and Hebrew Studies Textbooks From Israel
|
Join Email
List
|
Contact
us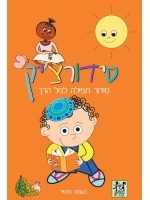 Siddurchik (Hebrew)

Prayer Book for Young Children
Author:
Naama Meyer
Publisher: Gefen Publishing House
Price: $10.95
Buy from Gefen for this special price!
Format:
Hard Cover
ISBN 10:
9652293822
ISBN 13:
9789652293824
Catalog Number:
382-4
Number of Pages:
32
Year Published:
2007
Description:
No other book has more of a profound influence on a child than a siddur. Through learning the letters and meaning behind the words, a child develops his/her own sense of communication with God. Meyer captures of the essence of prayer for a child through the prism of art.
The Siddurchick contains the basic prayers translated from Hebrew to English such as:
-Blessing over Tzitzit
-Ma Tovu
-Adon Olam
-Yigdal