HOME
|
The Official Gefen Publishing House Website -
One Stop Webstore for Jewish Books and Hebrew Studies Textbooks From Israel
|
Join Email
List
|
Contact
us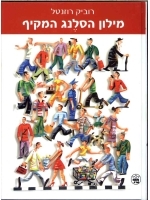 Dictionary of Israeli Slang Hebrew-Hebrew

Milon Ha-Slang Ha-Hekefi
Author:
Ruvik Rosenthal
Price: $58.00
Special Price: $42.00
Buy from Gefen for this special price!
Format:
Hard Cover
ISBN 10:
9650714014
ISBN 13:
9789650714017
Catalog Number:
9789650714017 / D-890
Number of Pages:
420
Year Published:
2006
Description:
This Comprehensive Slang Dictionary is a Hebrew only Hebrew to Hebrew dictionary that contains around 10,000 words and expressions including the latest slang used in Israel today. Sources include popular news media, Internet forums and chat lists!
The Comprehensive Slang Dictionary includes expressions for exaggerating praise and criticism, colorful curses and blessings, and even military lingo.
If you are an English speaker this is an invaluable tool. It will help you discover that the most difficult looking Hebrew slang words, are actually transliterated English words that you already know, and sometimes wish you didnt!
If you are new to Israel with a basic knowledge of Hebrew, you will not understand whats going on in this country without the Comprehensive Slang Dictionary!