HOME
|
The Official Gefen Publishing House Website -
One Stop Webstore for Jewish Books and Hebrew Studies Textbooks From Israel
|
Join Email
List
|
Contact
us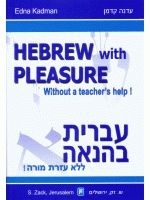 Price in Israel NIS 92
Hebrew With Pleasure
Without a Teacherís Help
Author:
Edna Kadman
Price: $38.95
Special Price: $28.00
Buy from Gefen for this special price!
Format:
Paperback
ISBN 10:
B000JBXQSI
ISBN 13:
0004100022900
Catalog Number:
D-748 / g256
Number of Pages:
374
Year Published:
2005
Description: Hebrew With Pleasure
is intended for English speakers who want to learn Hebrew outside a classroom framework by themselves.
Hebrew With Pleasure
is recommended even if you dont know Hebrew. Its a study guide with lessons and excecizes. Its also a handy reference.
Hebrew With Pleasure
helps you to
learn Hebrew
on your own, without a teachers help.
Hebrew With Pleasure
includes practice excercises and answers plus a Hebrew-English glossary of all the words in the book.