HOME
|
The Official Gefen Publishing House Website -
One Stop Webstore for Jewish Books and Hebrew Studies Textbooks From Israel
|
Join Email
List
|
Contact
us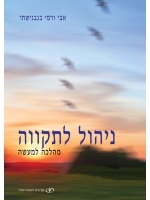 Nihul Latikvah (Hebrew) - Management Techniques
Management Techniques of the Shevach-Mofet school principal
Authors:
Avi Benvanishti
Rami Benvanishti
Publisher: Gefen Publishing House
Price: $21.95
Buy from Gefen for this special price!
Format:
Hard Cover
ISBN 10:
9652298360
ISBN 13:
9789652298362
Catalog Number:
9789652298362
Description:
The title, 'Nihul Latikvah' could be translated as 'School Managment for Hope.' This is a Hebrew book telling the success story of the Shevach-Mofet vocational school in Tel-Aviv. While under the helm of it's principal, Avi Benvenisti, Sheva-Mofet achieved high academic standards against all odds.
School principals have major impact on their schools. It is surprising therefore, that so few books are available to help support them in their important work.
The aim of this book is to help principals address the complex task of leading a school. The book describes in detail the authors' conceptual framework 'Hope Building School Leadership', and provides guidelines and practical tools to help lead schools.
The book is authored by an experienced principal who was able to make outstanding changes in schools that were facing enormous challenges, in collaboration with his brother, a university professor with extensive theoretical and research background in studying school climate. It is intended for principals in training and novice principals; however experienced principals may also find interest in the extensive knowledge and experience shared in this book.