HOME
|
The Official Gefen Publishing House Website -
One Stop Webstore for Jewish Books and Hebrew Studies Textbooks From Israel
|
Join Email
List
|
Contact
us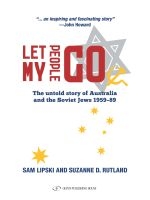 Let My People Go
The Untold Story of Australia and the Soviet Union
Authors:
Sam Lipski
Suzanne D Rutland
Publisher: Gefen Publishing House
Price: $19.95
Special Price: $18.00
Buy from Gefen for this special price!
ISBN 10:
9652298484
ISBN 13:
9789652298485
Catalog Number:
9789652298485
Number of Pages:
274
Year Published:
2015
Description:
For 50 years, until the Berlin Wall fell in 1989, the Soviet Union ran a campaign of repression, imprisonment, political trials and terror against its 3 million Jews. In Australia, political leaders and the Jewish community contributed significantly to the international protest movement which eventually triumphed over Moscow's tyranny and led to the modern Exodus of Soviet Jews to Israel and other countries. Lipski and Rutland make this largely unknown Australian story come alive with a combination of passion, personal experience and ground-breaking research.