HOME
|
The Official Gefen Publishing House Website -
One Stop Webstore for Jewish Books and Hebrew Studies Textbooks From Israel
|
Join Email
List
|
Contact
us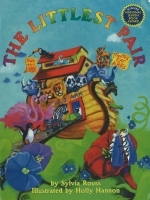 The Littlest Pair
Author:
Sylvia Rouss
Publisher: Gefen Books
Price: $9.95
Special Price: $9.00
Buy from Gefen for this special price!
ISBN 10:
1930143184
ISBN 13:
9781930143180
Catalog Number:
9781930143180
Number of Pages:
32
Year Published:
2015
Description:
None of the animals want the termites to come aboard Noah's Ark. After all, termites eat arks. But when the rain starts pouring and the animals start slipping helter skelter across the Ark, the termites use their wood munching abilities to save the day. The entire book is done in rhyme.