HOME
|
The Official Gefen Publishing House Website -
One Stop Webstore for Jewish Books and Hebrew Studies Textbooks From Israel
|
Join Email
List
|
Contact
us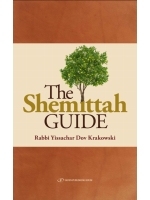 a singular approach on shemitta observance
The Shemita Guide
Author:
Yissachar Dov Krakowski
Publisher: Gefen Publishing House
Price: $12.95
Special Price: $11.50
Buy from Gefen for this special price!
ISBN 10:
965229800X
ISBN 13:
9789652298003
Catalog Number:
9789652298003
Number of Pages:
64
Year Published:
2015
Description:
The Shemitta Guide is a very unique guide to shemitta. It was created to help navigate anyone through the practical applications of shemitta observance in modern day Israel.
Shemitta is an area of halacha that wasn't fully practiced for over a millennium. Shemitta's not being practiced created a vacuum in halachic literature pertaining to it. Over the past hundred years or so various works have been written on this topic. In recent years some books have been published which have collected many of the earlier books approaches and opinions to many of the issues pertaining to shemitta.
Many of these books are thorough and well written. However, since they bring many opinions on many issues they aren't always helpful to someone who just needs to know what to do. This guide is the first English guide on shemitta to offer a singular approach on shemitta observance based on earlier leading rabbinic opinions and on what has become common practice in today's Israeli Torah communities. The guide avoids confusing the reader. Therefore, as a general rule, it does not suggest multiple or contradicting approaches to the same issue. All the approaches in the guide are in accordance with leading halachic opinions and in line with common practice. The guide is easy enough for the beginner yet sufficiently sophisticated that even the well versed can appreciate it. This guide can be used for general background and/or for halachic reference.