HOME
|
The Official Gefen Publishing House Website -
One Stop Webstore for Jewish Books and Hebrew Studies Textbooks From Israel
|
Join Email
List
|
Contact
us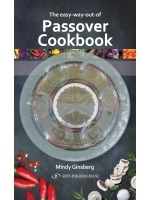 Easy Way Out Passover Cookbook
Author:
Mindy Ginsberg
Publisher: Gefen Publishing House
Price: $12.95
Special Price: $10.00
Buy from Gefen for this special price!
Format:
Paperback
ISBN 10:
965229781X
ISBN 13:
9789652297815
Catalog Number:
9789652297815
Number of Pages:
100
Year Published:
2015
Description:
Passover is coming! Donít panic! Believe it or not you may even enjoy this crazy week. I actually like to stay home specifically because of the delicious, special and unique dishes. After the house is crispy clean, the peculiar Passover paraphernalia in place, the shleppy shopping is done, the fun begins. Matzo brei with strawberry jam and matzo pizza are basics. Why I donít prepare them all year round is a wonder.
Cooking can be brought down to the absolute minimum by eating matzo with butter and salt, matzo with hard cheese and tomato, matzo with cottage cheese and finally matzo with cream cheese and jam. That will satisfy you for two days and then you will be craving for some delicious muffins, pizza, matzo brei, potatoes with fried onions, latkes, vegetable pancakes, brownies etc. If cooking must be done anyway it might as well be the easiest and most delicious dishes possible.
The day before Passover prepare the basics: tomato sauce, borscht, apple sauce, muffins, brownies and mayonnaise. (Donít panic! Before I started making my own mayonnaise I thought the idea was crazy, but it only takes a minute, and itís much more delicious that bought. Try it!)
All-year-round recipes can be adapted for Passover by using matzo meal in recipes which call for thickenings such as breadcrumbs, wheat germ, oatmeal, corn flakes crumbs etc. Legumes, seeds, corn and rice are considered Kosher for Passover by Sephardic Jews. So check recipes if they adhere to your cultural principles.