HOME
|
The Official Gefen Publishing House Website -
One Stop Webstore for Jewish Books and Hebrew Studies Textbooks From Israel
|
Join Email
List
|
Contact
us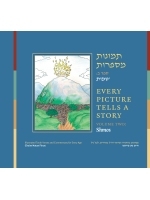 Every Picture Tells a Story, Volume Two: Shmos
Author:
Ashirah Yosefah
Price: $28.95
Buy from Gefen for this special price!
ISBN 10:
1940516102
ISBN 13:
9781940516103
Catalog Number:
9781940516103 / d610
Number of Pages:
114
Description:
A picture is worth a thousand words. Accompanied by words, it's worth millions, and when it comes to illustrate and to bring to life the words of the Torah, it is priceless. Vividly hand-illustrated with colorful portrayals of Torah personalities and events, the Every Picture Tells a Story series brings the weekly Parsha to life with illustrations, Torah verses, and descriptive commentary based on Midrash and other sources. The books are written in Hebrew and English. Volume Two: Shmos (Exodus) contains illustrations of the weekly Torah readings from the enslavement of the Children of Israel in Egypt through to the time that G-d's Glory filled the Mishkan (Tabernacle). Certain to be appealing to readers of all ages, it is a delightful storybook for young readers, a wonderful book to read to children, educational for Baalei Teshuvah, and a wonderful addition to any book collection. Companion coloring books also available.