HOME
|
The Official Gefen Publishing House Website -
One Stop Webstore for Jewish Books and Hebrew Studies Textbooks From Israel
|
Join Email
List
|
Contact
us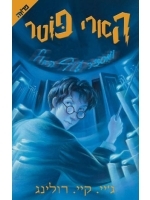 Harry Potter and the Order of the Phoenix (Hebrew)
Harry Potter U-misdar Of Hachol (Book 5)
Authors:
Gili Bar-Hillel (Translator)
J.K. Rowling
Price: $54.00
Special Price: $40.00
Buy from Gefen for this special price!
Format:
Paperback
ISBN 10:
B000RBZM6O
Catalog Number:
150-5
Number of Pages:
888
Year Published:
2004
Description:
The fifth year in the Harry Potter series is the darkest year yet for young Harry. Professor Dumbledore is under scrutiny from the Ministry of Magic, who refuse to acknowledge the return of Voldemort. The Ministry appoints Dolores Umbridge as the new Defense Against the Dark Arts teacher, and in no time she becomes the High Inquisitor at Hogwarts as well. Read about how Harry copes with his fifth year in Hebrew in the fifth installment of the series.