HOME
|
The Official Gefen Publishing House Website -
One Stop Webstore for Jewish Books and Hebrew Studies Textbooks From Israel
|
Join Email
List
|
Contact
us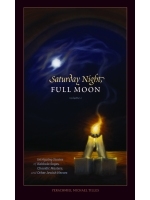 Saturday Night, Full Moon
Intriguing Stories of Kabbala Sages, Chasidic Masters and Other Jewish Heroes
Author:
Yerachmiel Tilles
Price: $24.95
Buy from Gefen for this special price!
ISBN 10:
1940516072
ISBN 13:
9781940516073
Catalog Number:
9781940516073 / d607
Number of Pages:
270
Year Published:
2014
Description:
At Ascent in Tsfat on Saturday night, reluctant to relinquish the Shabbat spirit, everyone gathers for 'King David's Table'. Sure, it may be that no one is really hungry again, but the main attractions are not the food and hot drink.
Instead, following hallowed traditions, all present eagerly attend to the mesmerizing stories told by Ascent co-founder Yerachmiel Tilles. Now you can enjoy, read and re-read, stories from Rabbi Yerachmiel Tilles' famed repertoire. Saturday Night Full Moon is a collection of thirty-three Chasidic stories of Kabbalah sages, Chasidic masters and other Jewish heroes dating from 16th Century Israel to 21st Century USA.
Fully indexed with biographical information, as well as verses, names, dates and topics, this first volume of Rabbi Tilles' stories is certain to become an oft-turned-to family treasure.