HOME
|
The Official Gefen Publishing House Website -
One Stop Webstore for Jewish Books and Hebrew Studies Textbooks From Israel
|
Join Email
List
|
Contact
us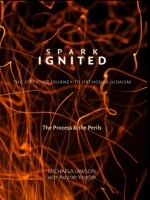 Spark Ignited
The Difficult Journey to Orthodox Judaism
Authors:
Michaela Lawson
Ashirah Yosefah
Price: $22.95
Buy from Gefen for this special price!
ISBN 10:
0989152057
ISBN 13:
9780989152051
Catalog Number:
9780989152051 / d205
Number of Pages:
192
Year Published:
2013
Description:
Orthodox Jewish Halacha (law) requires that a potential convert to Judaism be turned away three times, and their desire to convert will be challenged and tested repeatedly. Converts to Orthodox Judaism must be absolutely sincere, and they must set aside their previous lives and identities, because the transformation from gentile to Jew is all-encompassing and irreversible. Spark Ignited was written for both Jews and non-Jews. It details arduous journeys, both physical and spiritual, of individuals who made the passage from Christian births and upbringings to becoming Orthodox Jews. Their quests to serve their Creator led them on winding, and at times perilous, paths that culminated in Torah-true Orthodox Judaism. Their individual journeys not only describe the conversion process, but they reveal pitfalls and problems that lay by the wayside waiting to trip up or trap the unwary, to test even the most sincere, and to expose the insincere who would brazenly try to enter the Covenant of Avraham with idolatrous beliefs or fraudulent motives.