HOME
|
The Official Gefen Publishing House Website -
One Stop Webstore for Jewish Books and Hebrew Studies Textbooks From Israel
|
Join Email
List
|
Contact
us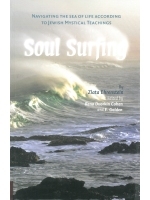 Soul Surfing
Navigating the Sea of Life According to Jewish Mystical Teachings
Author:
Zlata Ehrenstein
Price: $18.95
Buy from Gefen for this special price!
ISBN 10:
0989152006
ISBN 13:
9780989152006
Catalog Number:
9780989152006 / d200a
Number of Pages:
176
Year Published:
2013
Description:
A practical day-to-day mental and emotional health guide offering a synopsis of the purpose of Creation brought to every individual by way of real life examples that guide the reader towards the inner message of everyday life and its challenges. Learn how the purpose of Creation itself is being materialized by one's simple actions. Everyone is part of a historic plan. Reading and applying the practical instructions presented in Soul Surfing assists one's soul to safely 'surf to shore', illuminating our bodies, minds and all our emotions. These are time-proven methods for coping in life.