HOME
|
The Official Gefen Publishing House Website -
One Stop Webstore for Jewish Books and Hebrew Studies Textbooks From Israel
|
Join Email
List
|
Contact
us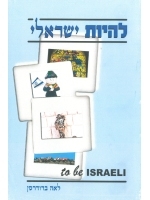 To Be Israeli Short Stories (Hebrew)
Author:
Leah Brodersen
Price: $28.00
Special Price: $18.00
Buy from Gefen for this special price!
Format:
Paperback
ISBN 10:
B00HND2Y6K
Catalog Number:
D-1075 / d620
Description:
'To Be Israeli' is a series of delightful short stories in Hebrew, chock full of colloquialisms with footnoted English translations, not generally found in dictionaries. Native Hebrew speakers absolutely love L'hiot Yisraeli, To Be Israeli, and most assuredly you will too! This small, easily digestible work is the perfect complement to improving your own Hebrew or as a gift for chutznik friends and relatives who want to improve theirs.