HOME
|
The Official Gefen Publishing House Website -
One Stop Webstore for Jewish Books and Hebrew Studies Textbooks From Israel
|
Join Email
List
|
Contact
us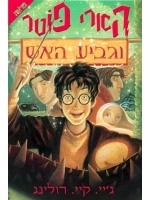 Harry Potter and the Goblet of Fire (Hebrew)
Harry Potter Ugevia Ha-Eish (Book 4)
Authors:
Gili Bar-Hillel (Translator)
J.K. Rowling
Price: $54.00
Special Price: $40.00
Buy from Gefen for this special price!
Format:
Paperback
ISBN 10:
B000RBZM6E
Catalog Number:
150-2
Number of Pages:
664
Year Published:
2003
Description:
The Triwizard Tournament is taking place during Harry's fourth year at Hogwarts. Will Harry become one of the lucky contenders? Read all about Harry's fourth year in Hebrew in this next installment.