HOME
|
The Official Gefen Publishing House Website -
One Stop Webstore for Jewish Books and Hebrew Studies Textbooks From Israel
|
Join Email
List
|
Contact
us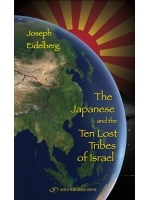 The Japanese and the Ten Lost Tribes of Israel
Author:
Joseph Eidelberg
Publisher: Gefen Publishing House
Price: $35.00
Special Price: $30.00
Buy from Gefen for this special price!
ISBN 10:
9652296597
ISBN 13:
9789652296597
Catalog Number:
g659 / 659-7
Number of Pages:
168
Year Published:
2014
Description:
Twenty-seven centuries ago, ten Hebrew tribes were exiled by the Assyrians and vanished somewhere beyond the mist-shrouded mountains of the East. To this day, no one knows what became of them. Seven or eight centuries after that exile, unknown tribes of obscure origin left their abode on the Asian continent and traveled to the islands of Japan. Those ancient immigrants settled in their new homeland and for many years continued observing their ancient traditions. These people are known today as the Japanese. In this startling book, a close examination of their traditions suggests the possibility that the Japanese are the descendants of the Ten Lost Tribes of Israel.