HOME
|
The Official Gefen Publishing House Website -
One Stop Webstore for Jewish Books and Hebrew Studies Textbooks From Israel
|
Join Email
List
|
Contact
us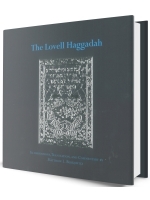 Price In Israel NIS 72
The Lovell Haggadah
Author:
Matthew L Berkowitz
Price: $23.00
Special Price: $20.00
Buy from Gefen for this special price!
ISBN 10:
965710551X
ISBN 13:
9789657105511
Catalog Number:
9789657105511 8-710-551
Number of Pages:
226
Description:
The Lovell Haggadah, infused with vibrant artwork and lively discussion questions and activities, represents the culmination of a seven-year journey of Jewish learning and art. Comprehensive Hebrew text and contemporary egalitarian translation by author and illustrator Rabbi Matthew L. Berkowitz, make this haggadah accessible and inviting. The Lovell Haggadah will make you want to continue your seder far into the night!
Praise for The Lovell Haggadah
…[Rabbi Berkowitz]… infuses the text with beautiful, bordering on breathtaking symbolic illustrations in color that combine art and Hebrew lettering. Each of the twenty-seven illustrations is an 'archaeological dig, demonstrating the ability of art to interpret sacred text,' the rabbi writes….
The Forward
…Though Berkowitz's original works are deeply rooted in traditional sources, the Haggadah is not deaf to contemporary issues. The language is gender neutral… and is written with a 'questioning consciousness,' as Berkowitz writes in the introduction. It also reflects modern-day concerns pertaining to the State of Israel…
Jewish Telegraphic Agency
…In addition to insightful explanations of the seder rituals and of each artwork, the Haggadah offers relevant quotes about each section from Jewish sages, poetry, 'reflections' for introspection, and suggestions for creative seder customs…
The Jewish Week