HOME
|
The Official Gefen Publishing House Website -
One Stop Webstore for Jewish Books and Hebrew Studies Textbooks From Israel
|
Join Email
List
|
Contact
us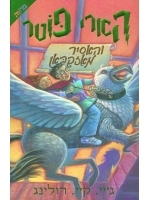 Harry Potter and the Prisoner of Azkaban (Hebrew)
Harry Potter Ve-Haasir Me-Azkaban (Book 3)
Authors:
Gili Bar-Hillel (Translator)
J.K. Rowling
Price: $42.00
Special Price: $32.00
Buy from Gefen for this special price!
Format:
Paperback
ISBN 10:
B000RBZM64
Catalog Number:
200-0
Number of Pages:
444
Year Published:
2002
Description:
Join Harry Potter in his third year of Hogwarts. Sirius Black, an escaped convict from the prison, Azkaban, is on the loose. Not only that, but he's after Harry. Read all about it in Hebrew in the third installment of the Harry Potter series.
Reviews: