HOME
|
The Official Gefen Publishing House Website -
One Stop Webstore for Jewish Books and Hebrew Studies Textbooks From Israel
|
Join Email
List
|
Contact
us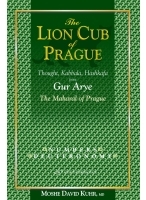 The Lion Cub of Prague: Numbers and Deuteronomy
Thought, Kabbalah and Hashkafa from Gur Aryeh, the Maharal of Prague
Author:
Moshe David Kuhr
Price: $21.95
Special Price: $20.00
Buy from Gefen for this special price!
Format:
Hard Cover
ISBN 10:
9652297402
ISBN 13:
9789652297402
Catalog Number:
9789652297402
Number of Pages:
201
Year Published:
2015
Description:
Rabbi Yehuda Loewe [1512–1607], known as Maharal of Prague, is credited with the creation of the Golem, but more importantly, served as the rabbinic leader to European Judaism during the sixteenth century. Much of his voluminous work has not been translated and therefore is not accessible to the English-reading public – until now. The "Gur Arye," Maharal's supercommentary on the classic biblical commentator Rashi, is full of surprises, brimming with unique thoughts and diversions into rarely discussed Torah ideas. Kabbala is seamlessly woven into his text.