HOME
|
The Official Gefen Publishing House Website -
One Stop Webstore for Jewish Books and Hebrew Studies Textbooks From Israel
|
Join Email
List
|
Contact
us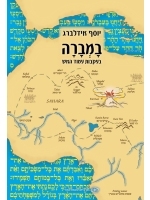 Bambara (Hebrew)
In the Footsteps of the Pillar of Fire
Author:
Joseph Eidelberg
Publisher: Gefen Publishing House
Price: $24.00
Buy from Gefen for this special price!
Format:
Hard Cover
ISBN 10:
9652296589
ISBN 13:
9789652296580
Catalog Number:
9789652296580
Number of Pages:
118
Year Published:
2014
Description:
Bambara presents a fascinating new theory of the Exodus through the Sahara desert. In a logical step by step analysis the author uncovers the mystery of the 40 year journey which the Children of Israel made 3250 years ago from Egypt to Israel.
In addition, the book presents the discovery of many locations in Africa, mentioned in the Bible, as stops the Children of Israel made during their journey.