HOME
|
The Official Gefen Publishing House Website -
One Stop Webstore for Jewish Books and Hebrew Studies Textbooks From Israel
|
Join Email
List
|
Contact
us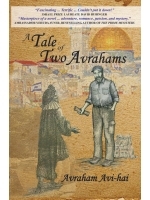 A Tale of Two Avrahams
Author:
Avraham Avi-hai
Publisher: Gefen Publishing House
Price: $14.95
Buy from Gefen for this special price!
Format:
Paperback
ISBN 10:
9652296694
ISBN 13:
9789652296696
Catalog Number:
9789652296696
Description:
A Tale of Two Avrahams follows the lives or two men: one modern day, the other who lived 400 years ago. Both the heroes are fleeing from the threat of death: the first from renegade Jewish fanatics; the other from the Catholic Inquisition. The Israeli Avraham makes his way to Greece and Italy, with foes at his heels. In Crete, he discovers the tale of another Avraham, this one Italian and from the Renaissance, who is also fleeing from deadly enemies. These intermingled tales weave together with startling similarities and riveting differences as the two Avrahams cross four centuries and thousands of miles – pursued by Jews, Roman Catholics, Greek Orthodox, and Muslims alike – and pull us into their conflicts and danger, friendships, and love. Living in ever-present danger, both Avrahams struggle to find hope and freedom from the fear that has driven them away from everything they know and love. Dr. Avi-hai draws upon his rich cultural background as well as his Jewish heritage to bring to life the men and the women whose souls are touched by the two Avrahams.
Reviews:
A Tale of Two Avrahams is a narrative as compellingly gripping as it is beautifully composed.
Ambassador Yehuda Avner
bestselling author of The Prime Ministers
A fascinating tale ... gripping ... surprising revelations.
Steve Linde
Editor The Jerusalem Post
I was totally consumed by this book. Usually I am very hard to mesmerize, but A Tale of Two Avrahams was the exception: I loved it!
Avraham Infeld
Former President of HILLEL, World-renowned Jewish Educator