HOME
|
The Official Gefen Publishing House Website -
One Stop Webstore for Jewish Books and Hebrew Studies Textbooks From Israel
|
Join Email
List
|
Contact
us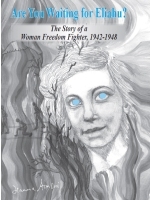 Are You Waiting for Eliahu?
The Story of a Woman Freedom Fighter, 1942-1948
Authors:
Hanna Armoni
Zeev Golan (Translator from Hebrew)
Price: $15.95
Special Price: $14.20
Buy from Gefen for this special price!
Format:
Paperback
ISBN 10:
9655557448
ISBN 13:
9789655557442
Catalog Number:
d744a
Number of Pages:
191
Year Published:
2014
Description:
A teenage girl considered the plight of the Jews in the 1940s and, determined to change Jewish history, enlisted in the Stern Gang. Hanna Armoni was that teenager and Are You Waiting for Eliahu? is the story of what caused so many young people to take up arms in the struggle for a Jewish state. Hanna reflects on being a young woman among male combatants, robbing banks, blowing up bridges, marrying the underground fighter she loved and losing him during a prison escape, the birth of their daughter, and finally the loss of her mother when the Egyptians bombed Tel Aviv. Hanna tells her story with passion, objectivity, and delicacy.
Lehi Operations Commander Yaacov Banai read Are You Waiting for Eliahu? and said that "In all the vast literature about Lehi, no descriptions or personal stories of a woman who fought in the Combat Division are as interesting or as moving." Former Member of Knesset Geula Cohen, who was the underground's radio announcer during the 1940s war for independence from England, praised the "humor and warmth" of Are You Waiting for Eliahu? and called Hanna "more poet than author."
From 1942 to 1948 Hanna Armoni served as an active member of the Stern Group (Lehi). Since 1982, she has helped in organizing the Lehi Heritage Society, where she serves as an advisor and guide to students and researchers. She holds a degree in Hebrew Literature and Theater Arts. Hanna is the author of four Hebrew-language books. This is the first of her books to be translated into English.