HOME
|
The Official Gefen Publishing House Website -
One Stop Webstore for Jewish Books and Hebrew Studies Textbooks From Israel
|
Join Email
List
|
Contact
us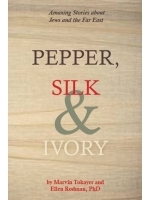 Pepper, Silk & Ivory
Amazing Stories about Jews and the Far East
Authors:
Ellen Rodman
Marvin Tokayer
Publisher: Gefen Publishing House
Price: $24.95
Special Price: $18.00
Buy from Gefen for this special price!
Format:
Hard Cover
ISBN 10:
9652296473
ISBN 13:
9789652296474
Catalog Number:
g647 / 647-4
Number of Pages:
300
Year Published:
2014
Description:
There is a missing page in Jewish history. We tend to assume that Jewish history is to be found in the Middle East, Europe, North Africa, and the Americas – but not in the Far East. Pepper, Silk & Ivory has discovered that missing page, revealing the amazing stories of Jews who both benefitted from and contributed to the Far East.
You will read about the "uncrowned Jewish king of China," the indefatigable World War II refugees in Kobe, the woman who refused to give up until the Japanese constitution included rights for women and children, and the baseball player who became an American spy in Japan, as well as the Jew who served as Singapore's first prime minister, the amusing comedy of errors surrounding the Chinese Jews of Kaifeng, the smart and eccentric woman who introduced China to the West and never went anywhere without her pet gibbon, and the extraordinary tale of the sixteenth-century Marrano physician in India. Jewish contributors to Eastern music and the Jewish members of Mao Zedong's inner circle also have their stories told. Consummate storyteller Marvin Tokayer, Lifetime Honorary Rabbi of Japan's Jewish community, draws on half a century of personal experiences and a wealth of knowledge as he, in concert with writer and television producer Dr. Ellen Rodman, weaves together the characters and history of the Jews of the Far East into this fascinating book.
Reviews: