HOME
|
The Official Gefen Publishing House Website -
One Stop Webstore for Jewish Books and Hebrew Studies Textbooks From Israel
|
Join Email
List
|
Contact
us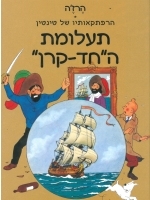 The Adventures of Tintin (Hebrew) The Secret of the Unicorn
Taalumat Hachad-Keren
Author:
Georges Prosper Remi Herge (pen name)
Price: $36.00
Special Price: $26.00
Buy from Gefen for this special price!
Format:
Hard Cover
ISBN 10:
B00B1B17MW
ISBN 13:
0010100605029
Catalog Number:
0010100605029 / D-1032-11
Number of Pages:
68
Description:
This is the Hebrew editon, known to generations of Israeli youth of The Adventures of Tintin (Hebrew) The Secret of the Unicorn. The original French title is Les Aventures De Tintin Secret de la Licorne.