HOME
|
The Official Gefen Publishing House Website -
One Stop Webstore for Jewish Books and Hebrew Studies Textbooks From Israel
|
Join Email
List
|
Contact
us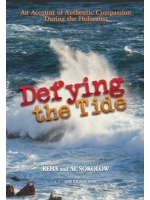 the story of her parents' escape from death
Defying the Tide
An Account of Authentic Compassion During the Holocaust
Authors:
Al Sokolow
Reha Sokolow
Publisher: Gefen Publishing House
Price: $14.95
Special Price: $10.90
Buy from Gefen for this special price!
Format:
Paperback
ISBN 10:
9652296422
ISBN 13:
9789652296429
Catalog Number:
9789652296429
Number of Pages:
176
Year Published:
2013
Description:
Ruth Abraham and Maria Nickel would never have met each other if it hadn't been for the Shoah. But when Hitler turned Germany into a cauldron of anti- Semitism, Maria Nickel decided that morality and ethics were more important than even life itself.
This story of unbridled compassion made world headlines in May 2000 in Berlin Germany when
Ruth, then 87 and recovering from heart bypass
surgery, met her friend Maria, 90, for the last
time.
In 1942 Ruth, eight months pregnant, and on
her way to certain death, was stopped by a
German woman in a gray coat who offered her
food, saying, Take this. It's the Christmas
rations for Germans. I can't have Christmas
with my family knowing that you are carrying a
baby and don't have enough to eat. Their long
and arduous journey together reached its climax
when Maria and her husband gave their identity
papers to Ruth and Walter and with it the precious gift of life.
Reha Sokolow, the daughter of Ruth and Walter, tells the story of her parents' escape from death
using the voice of both Maria and Ruth so that the reader begins to understand the many levels of
fear, trepidation, and love that was an integral part of the lives of both the savior and the saved.