HOME
|
The Official Gefen Publishing House Website -
One Stop Webstore for Jewish Books and Hebrew Studies Textbooks From Israel
|
Join Email
List
|
Contact
us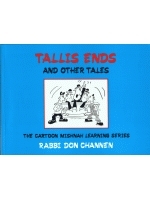 Tallis Ends And Other Tales
The Cartoon Mishnah Learning Series
Author:
Don Channen
Price: $12.95
Special Price: $8.00
Buy from Gefen for this special price!
Format:
Paperback
ISBN 10:
965229053X
Catalog Number:
053-X
Number of Pages:
184
Year Published:
1996
Description:
Tallis Ends and Other Tales
includeds Seven rhyming lessons from the Mishnah all in cartoon format.
Tallis Ends and Other Tales
incorcopates Hebrew text, English translation, pre-reading questions and cartoon style illustrations of the scenario discussed in the Mishna with rhyming singable descriptive text.
Questions for review and summary at the end of each chapter.
Tallis Ends and Other Tales
is an innovative approach to begin the study of the Mishnah, especially designed for children. It is a window to the world of Mishnah, which stimulates the minds of young readers.
This series has been used to inspire childrren of all levels. Using cartoon format, it teaches lessons from the Mishnah in a fun and entertaining way!
Tallis Ends and Other Tales is based on Seder Nezikin.
Table of Contents
A Crash From Behind (Baba Kama 3:5)
Tallis Ends (Baba Metziah 1:1)
Just Find Something (Baba Metzia 2:1)
Shomer Sheh'Massar L'Shomer (Baba Metziah 3:2)
The Brothers' Bricks (Baba Metziah 10:1,3)
Good Neighbours (Baba Batra 1:3)
The Crook From Pombedita (Baba Batra 3:3)