HOME
|
The Official Gefen Publishing House Website -
One Stop Webstore for Jewish Books and Hebrew Studies Textbooks From Israel
|
Join Email
List
|
Contact
us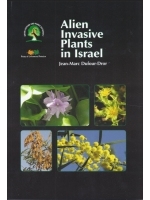 Alien Invasive Plants in Israel
Author:
Jean-Marc Dufour-Dror
Price: $24.95
Buy from Gefen for this special price!
Format:
Paperback
ISBN 10:
9659029225
ISBN 13:
9789659029228
Catalog Number:
9789659029228
Number of Pages:
214
Year Published:
2013
Description:
The book Alien Invasive Plants in Israel by Dr. Jean-Marc Dufour-Dror, is now available in a new 2012 English-language edition, which has been updated since the publication of the 2010 edition in Hebrew. This full color, soft-cover book is divided into three chapters: The first chapter is dedicated to the definitions of several basic concepts required for understanding the topic of invasive plant ecology. An overview of the main ecological and biological characteristics typical of invasive plants is presented in this chapter, with all examples taken from invading taxa in Israel. The second chapter presents a brief analysis of the major characteristics of the phenomenon of invasive plants in natural areas in Israel. The first section of this chapter discusses the factors underlying the spread of invasive plants in Israel. The second section reviews their main effects on local ecosystems, focusing on habitats that are particularly susceptible to invasion. In the third section we present a summary of the control techniques and methods currently implemented in Israel to cope with the proliferation of invasive plants in natural areas. The third chapter that makes up the bulk of this book provides detailed and up to date information on the 50 most significant species of alien plants that invade natural and semi-natural habitats in Israel. The information includes a short description of the plant, information on its natural range (origin), background related to its introduction to Israel, information on its known biological and ecological traits, a description of its invasive status in Israel and an explanation of how it affects local ecosystems. Existing and relevant control methods are described for each species. The main regions in the world invaded by the species are mentioned, and a list of references is presented for each species. Finally there is an appendix with a current list of all the alien plant species recorded in natural and disturbed areas in Israel up to early 2010.