HOME
|
The Official Gefen Publishing House Website -
One Stop Webstore for Jewish Books and Hebrew Studies Textbooks From Israel
|
Join Email
List
|
Contact
us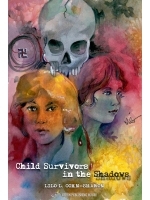 Child Survivors in the Shadows
Author:
Lilo L. (Lillian) Cohn-Sharon
Publisher: Gefen Publishing House
Price: $14.95
Buy from Gefen for this special price!
Format:
Paperback
ISBN 10:
9652296201
ISBN 13:
9789652296207
Catalog Number:
9789652296207 g620
Number of Pages:
160
Description:
Lilo was a child during the Holocaust. Now that the older generation of Holocaust survivors, such as her parents, have mostly passed on, she and others like her are the "last survivors of the Holocaust" – the final witnesses to the horrors that Hitler perpetrated on the Jewish people.
After Lilo attended a workshop given by Hana Greenfield, noted author, lecturer, and Holocaust child survivor, where she spoke about the importance of child survivors sharing their experiences of the Holocaust, Lilo began compiling her history and experiences. She started speaking to schools and groups, and received more and more requests to share her story, presented here in a special volume illustrated by Lilo herself.
Through narrative, poems and illustrations, this book shares the voice of a childhood lived in the shadow of the ultimate darkness.