HOME
|
The Official Gefen Publishing House Website -
One Stop Webstore for Jewish Books and Hebrew Studies Textbooks From Israel
|
Join Email
List
|
Contact
us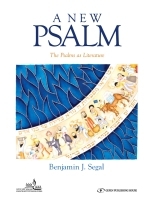 Unique. Modern. Poetic.
A New Psalm
The Psalms as Literature
Author:
Benjamin Segal, (translation and commentary)
Publisher: Gefen Publishing House
Price: $48.00
Special Price: $38.00
Buy from Gefen for this special price!
Format:
Hard Cover
ISBN 10:
965229618X
ISBN 13:
9789652296184
Catalog Number:
g618 / 618-4
Number of Pages:
720
Year Published:
2013
Description:
Perhaps The most widely read section of the Bible, Psalms has provided guidance and solace to people of all religions and backgrounds. The psalmists' quest for understanding has fueled the inquisitive minds of men and women across the millennia. The words are ancient, but the questions that Psalms raises are immediate and modern. It is truly poetry of the heart.
In 'A New Psalm', Rabbi Benjamin Segal brings a unique combination of classical and modern interpretations to the Book of Psalms, along with a real appreciation for the poetic skills of the poets and an acknowledgment of their own struggles and strivings. By identifying the literary techniques used by the psalmists, the author opens the psalms to the reader through an integrated appreciation of form and content.
A New Psalm is a commentary and guide to reading the Book of Psalms as literature. After an introduction, each psalm is interpreted in light of biblical scholarship, with an emphasis on the poetic presentation. The commentary elucidates the spiritual quests, insights, and struggles of generations of men and women confronting their world and their place in that world, with no subject left unexplored. In A New Psalm, modern research and insight allow the poems to sing once again.