HOME
|
The Official Gefen Publishing House Website -
One Stop Webstore for Jewish Books and Hebrew Studies Textbooks From Israel
|
Join Email
List
|
Contact
us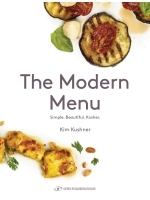 Seasonal Menus! Less is more. Simple is best.
The Modern Menu (HC)
Last Warehouse Copies of Rare Out of Print Book
Author:
Kim Kushner
Publisher: Gefen Publishing House
Price: $35.00
Special Price: $20.00
Buy from Gefen for this special price!
Format:
Hard Cover
ISBN 10:
9652296112
ISBN 13:
9789652296115
Catalog Number:
g611 / 611-5
Number of Pages:
168
Year Published:
2013
Description:
For a dynamic presentation of the inside pages click
here.
For a video presentation with the author in her kitchen click
here
.
The concept for this book has been building for the last decade. During these years the author has been teaching, out of her own kitchen, various groups of friends how to cook and put together menus. At the end of the day, everyone needs and loves to eat, especially when what s on offer is made with love. And the truth is, a thoughtfully prepared dish is far more interesting than a perfectly prepared one. In fact, the author never approaches any dish with the idea that it will be perfect. Not only is this attitude freeing, but it inspires her to try new ingredients, flavors, and techniques. She has prepared the recipes in the book dozens of times; they re tried and true, foolproof, and beautiful. Her students always want to know what goes with what, so she organized the recipes into menus, named for the way the dishes make her feel. There s a Vibrant menu, filled with color, which inherently translates to flavor; the Crisp menu is loaded with pleasing crunch; the Saucy menu highlights the transformational power of a well-made yet simple sauce. The menu arrangements are simply suggestions; feel free to mix and match as you like. But never, ever skimp on the passion you put into making any dish, right down to a simple salad dressing. Because when it comes to cooking, what you put into it is what you get out of it.