HOME
|
The Official Gefen Publishing House Website -
One Stop Webstore for Jewish Books and Hebrew Studies Textbooks From Israel
|
Join Email
List
|
Contact
us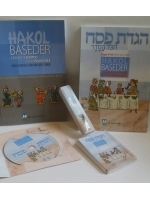 Includes Handy Softcover Haddadah!
Hakol Baseder booklet, CD and interactive packet
A Treasury of Activities for the Pesach Seder
Author:
Michael Toben
Price: $39.95
Special Price: $34.00
Buy from Gefen for this special price!
Format:
Paperback
ISBN 10:
9652295000
ISBN 13:
9789652295002
Catalog Number:
g500a / 500-2
Year Published:
2012
Description:
Seder night is one of the most significant events of the Jewish calendar, yet the classic Haggadah comes without a manual of directions, except in the minimal sense. How can we ensure that the Seder will be a meaningful experience for all those who gather around our table? Hakol BaSeder includes a full text Hebrew-English soft-cover Haggadah for use at the Pesach Seder and also provides a plethora of activities aimed at stimulating interest, arousing discussion, and helping the participants discover new insights. With activities catering to all of the various age groups, Hakol BaSeder gives you the tools you need
to have an enjoyable and memorable evening.
Reviews:
May this project and the memory of Rabbi Mitch bring blessing to his family and to all of Am Yisrael.
Chief Rabbi Lord Sacks