HOME
|
The Official Gefen Publishing House Website -
One Stop Webstore for Jewish Books and Hebrew Studies Textbooks From Israel
|
Join Email
List
|
Contact
us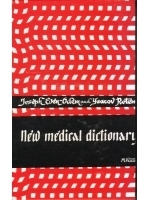 includes anitquated Medical Hebrew
New Medical Dictionary
Milon Refu'i Hadash
Price: $42.00
Special Price: $24.00
Buy from Gefen for this special price!
Format:
Hard Cover
ISBN 10:
140999HC00
Catalog Number:
D-790
Number of Pages:
888
Year Published:
1988
Description:
This medical terms dictionary includes anitquated Hebrew terminology and usage. It often give the pure Hebrew instead op the Hebraicized English or Latin term currently in use.
It is particularly useful for translating dated documentation.