HOME
|
The Official Gefen Publishing House Website -
One Stop Webstore for Jewish Books and Hebrew Studies Textbooks From Israel
|
Join Email
List
|
Contact
us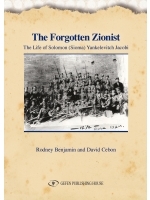 The Forgotten Zionist
The Life of Solomon (Sioma) Yankelevitch Jacobi
Authors:
Rodney Benjamin
David Cebon
Price: $40.00
Special Price: $32.50
Buy from Gefen for this special price!
Format:
Hard Cover
ISBN 10:
965229571X
ISBN 13:
9789652295712
Catalog Number:
9789652295712
Number of Pages:
161
Year Published:
2012
Description:
Solomon Jacobi, born in the Ukraine and educated in Odessa, a veteran of the Russian army and a lifelong Zionist activist, died in 1939 at the age of forty-two. Twenty-five years later, the editor of Herut wrote, "I feel the emotional need to resurrect the memory of the man to whom many of us owe our lives. The younger generation have never heard his name; among the older generation only a few know of him. Yet, as the Betar website said in its tribute to Jacobi, he was "the person responsible for Aliyah Bet on behalf of the Betar directorate.… He was the living force of the enterprise.
Who was this man, of whom Vladimir Jabotinsky wrote upon Jacobi's sudden death, "I confess I feel pretty helpless. Nothing done since 1931 was done without him"? Jabotinsky and Jacobi exchanged more than five hundred letters between 1920 and 1939. Yet Jabotinsky's right-hand man, who ran the London Revisionist bureau from 1934 until his death, has been largely left out of the two major biographies of Jabotinsky and is virtually unknown.
The Forgotten Zionist resurrects the legacy of a remarkable man and awards Solomon "Sioma" Jacobi his rightful place in Zionist history.