HOME
|
The Official Gefen Publishing House Website -
One Stop Webstore for Jewish Books and Hebrew Studies Textbooks From Israel
|
Join Email
List
|
Contact
us
Gil Daleski was born in Jerusalem in 1954 and has always lives in the Holy city. He studied psychology and philosophy at the Hebrew University of Jerusalem, and worked as a Group Dynamic Leader. He is also the author of many poems. Is God Sad? was inspired by the author's intimate conversations with his three daughters and his intense interest in the subject over many years.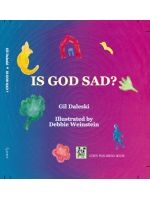 Is God Sad?
Price: $14.95 $13.00
In this colorful and creative children's work...
More
Is God Sad? (Hebrew)
Price:
$14.95
Az Mah Zeh Elohim?
This is the Hebrew edition of this colorful a...
More