HOME
|
The Official Gefen Publishing House Website -
One Stop Webstore for Jewish Books and Hebrew Studies Textbooks From Israel
|
Join Email
List
|
Contact
us
Dr. Menachem Finkelstein served as Israel Defense Forces Advocate General, with the rank of Brigadier-General, until 2004, after having served as Deputy President of the IDF Military Court of Appeals. Dr. Finkelstein is currently a judge in the Haifa District Court. He lectured for many years in the Law Department of Bar-Ilan University and in other academic institutions.
Conversion Halacha and Practice
Price: $110.00 $52.00
Conversion Halacha and Practice deals with th...
More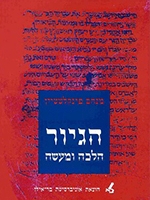 Proselytism: Halakhah and Practice (Hebrew) 
Price: $45.00 $36.00
Hagiut Halacha Umaaseh
Conversion (giyyur), the way in which a genti...
More