HOME
|
The Official Gefen Publishing House Website -
One Stop Webstore for Jewish Books and Hebrew Studies Textbooks From Israel
|
Join Email
List
|
Contact
us
Prof. Menachem Zvi Kaddari is one of today's leading scholars in Hebrew Linguistics, and has specialized in the study of the Hebrew language for close to 50 years. His research encompasses all periods from biblical to modern Hebrew, and deals with most aspects of linguistic study: syntax, semantics, diction and stylistics, lexicography and stylistics. (One of his special interests is in defining the principles underlying the process of the internal organization of today's language.) Prof. Kaddari was awarded the Israel Prize for Hebrew Linguistics in 1999.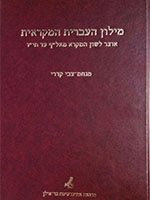 A Dictionary of Biblical Hebrew Alef - Taw (Hebrew)
Price: $220.00 $176.00
Milon Ivrit Mikraeet Hadpasah Schlisheet
This is the first modern Hebrew dictionary to...
More