HOME
|
The Official Gefen Publishing House Website -
One Stop Webstore for Jewish Books and Hebrew Studies Textbooks From Israel
|
Join Email
List
|
Contact
us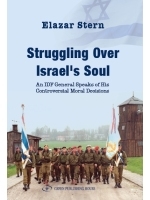 Is Israel Worth Fighting For. Yes. Here's Why!
Struggling Over Israel's Soul
An IDF General Speaks of his Controversial Moral Decisions
Author:
Elazar Stern
Publisher: Gefen Publishing House
Price: $18.00
Special Price: $12.00
Buy from Gefen for this special price!
Format:
Paperback
ISBN 10:
9652295760
ISBN 13:
9789652295767
Catalog Number:
576-7 /g576
Number of Pages:
251
Year Published:
2012
Description:
This is the English translation of the Hebrew title 'Masa Komta'
In all the command positions that he held, General Elazar Stern knew that the role of the Israel Defense Forces was not limited solely to achieving victory on the battlefield. Many of the tasks that he undertook in over three decades of service to his country required moral courage – whether it was initiating conversion courses in the IDF, laying down a hard line against disobeying orders during the evacuation of Gush Katif, or taking a stand against draft dodgers – and Stern was well aware that public courage has its price.
In Struggling Over Israel's Soul, General Stern tells the story of his personal battles – the battles for the character and future of the IDF as the army of the people and for the character and future of Israel as a Jewish and democratic state. He candidly describes the challenges and difficulties of a being a religious soldier in a unit of non-religious soldiers, yet he openly opposes the continued service of religious soldiers in separate units. He explains why he was required to rewrite the IDF's ethical code and reveals his revolutionary plan to solve the problem of ultra-Orthodox army exemptions.
This honest and frank insider's look at the Israel Defense Forces will inspire you and show you a glimpse of the true face of Israel and why Israel is worth fighting for.
Reviews:
General Elazar Stern is a soldier and an intellectual. As a soldier he never stopped thinking, and as an intellectual he never stopped
preparing. So his memoir is not a story of the past but a lesson for the future: how to win wars, how to lead soldiers, and how to remain a true believer in the Ten Commandments, which serve as the foundation of the Jewish heritage and history.
Shimon Peres, President of Israel

To regard Elazar Stern's remarkable and moving memoir is to plunge into Israel's problems of loyalty and faith, individual morality and political considerations, religious education and the changing strategic necessities: he evokes them with sensitivity and gravity. I warmly recommend this volume to anyone interested in the dramatic and psychological dilemmas Israel is facing on many levels, to this day.
Elie Wiesel author, Nobel Laureate