HOME
|
The Official Gefen Publishing House Website -
One Stop Webstore for Jewish Books and Hebrew Studies Textbooks From Israel
|
Join Email
List
|
Contact
us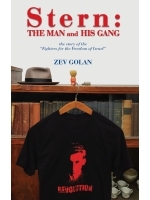 Stern The Man and his Gang
The Sory of the Fighters for the Freedom of Israel
Author:
Zev Golan
Price: $15.95
For this special price and shipping offer, order from Gefen
Format:
Paperback
ISBN 10:
9659172400
ISBN 13:
9789659172405
Catalog Number:
9789659172405
Number of Pages:
288
Year Published:
2011
Description:
Stern: The Man and His Gang traces Abraham Stern's evolution from hated gangster to folk hero and chronicles the military and political deeds of the thousand Jews who joined his war against England.
In the 1940s, before there was an Israel, the Holy Land was rocked by warfare and violence, and no militia was fiercer than the band of Jewish revolutionaries known as the Stern Gang. Stern: The Man and His Gang by Zev Golan is the first English-language account of the life of Abraham Stern, the charismatic poet who founded the underground that called itself the "Fighters for the Freedom of Israel." Stern: The Man and His Gang also provides a comprehensive history of the gang's operations in the years 1940-48, when it fought what it called British imperialism in the Mideast.