HOME
|
The Official Gefen Publishing House Website -
One Stop Webstore for Jewish Books and Hebrew Studies Textbooks From Israel
|
Join Email
List
|
Contact
us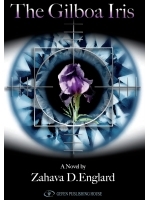 The Gilboa Iris
Author:
Zahava D Englard
Price: $19.95
Special Price: $12.00
Buy from Gefen for this special price!
Format:
Paperback
ISBN 10:
9652295744
ISBN 13:
9789652295743
Catalog Number:
9789652295743
Number of Pages:
416
Description:
Dara Harow, the daughter of a rocket physicist for the US department of defense, sends her parents into a tailspin of dual-loyalty anxiety when she plans to wed Roni Ben-Ari, an Israeli officer in an elite counter-terrorist unit. When the Harows are targeted by a terror cell in hot pursuit of technology not yet found in any country's arsenal, Dara finds herself at the center of a hierarchy of terror that threatens her life and the lives of those she loves. The Gilboa Iris is a blazing tale of romance, deceit and international intrigue. Its rich characters and explosive plot take readers from Israel's Gilboa Mountains to the streets of New York, to Germany's Zehlendorf Forest, and back
to Israel amid seminal events that rocked the world between 1983 and 2002.
Reviews:
Riveting – breathless action – a rousing story of romance!… The Gilboa Iris weaves together the timeless love story of Dara and Roni, a feisty American student and a brilliant Israeli commando, against the backdrop of global terror involving the infiltration of the US's defense stratum and a double homicide on American soil. Zahava D. Englard merges wit, history, adventure and the triumph of the human spirit into a sensational read!
Grace Bennett
Inside Chappaqua Magazine
It was tough to tear my eyes away from The Gilboa Iris…. While the main character is not family(!) I did relate to her story and its incorporation of the very real tensions, terrorism fears and other issues that so many of us in the Western world must deal with today. A fast-paced, exciting read that has you praying for a happy ending.
Eve Harow
Israel National Radio Show host
Hard to believe The Gilboa Iris is Zahava Englard's first novel – it sizzles, oozing passion of all kinds. Great plot, fascinating characters and, best of all, it's brimming with local lore. Don't miss this one!
Yocheved Miriam Russo
Freelance journalist, Israel
This moving story of love, death, rebirth and survival…a great read.
Ruthie Blum
American-Israeli author and social critic