HOME
|
The Official Gefen Publishing House Website -
One Stop Webstore for Jewish Books and Hebrew Studies Textbooks From Israel
|
Join Email
List
|
Contact
us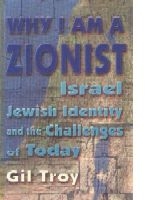 Rare Out of Print Book! Last Warehouse Copies
Why I am a Zionist
Israel, Jewish Identity and the Challenges of Today
Author:
Gil Troy
Price: $14.95
Special Price: $14.20
Buy from Gefen for this special price!
ISBN 10:
1552346471
Catalog Number:
1552346471
Number of Pages:
196
Year Published:
2002
Description:
Why I am a Zionist is a penetrating and startling analysis of the challenges facing the Jewish nation today. Author Gil Troy ardently returns to the core issues – What is Zionism? Why is Zionism equated with racism in the eyes of the world? – And the result is a crash course in Jewish nationalism and identity, covering an important range of topics including the Arab-Israel conflict, terrorism, multiculturalism, and the quandary of North American modern Zionism. In doing so, he attempts to 'take back' Zionism from its critics, and re-establish pride in the Zionist movement.
The book is divided into four sections: the first, entitled 'Why I am a Zionist – and Proud of it', delves into the current ills of North American Zionism, then presents a new and positive vision in which Zionism – or Jewish Nationalism – is an essential part of Jewish identity. The second section is an exploration of the history of the land of Israel, from the time of Abraham till today. Part 3, 'Crisis Zionism', addresses the current Israeli-Palestinian conflict, and the renewed assault on the legitimacy of Zionism and Israel. Finally, Part 4, entitled 'Identity Zionism', explores a new Zionist vision for North America. Also included is an appendix detailing helpful ways to debate and counter anti-Israel propaganda, especially on university campuses.
In Why I am a Zionist, Troy addresses the tough questions, exploring recent events such as the current Intifada and September 11. He does so with both passion and purpose, and the result is a direct and honest appraisal of the state of the Jewish nation today, with some much needed guidance to ensure that Zionism and Jewish identity not only survive, but also thrive. Why I am a Zionist is a thoroughly relevant and honest exploration of contemporary issues that cannot be ignored.
Gil Troy is a Professor of History at McGill University in Montreal. His previous two books, both dealing with American history, are Mr. and Mrs. President: From the Trumans to the Clintons, and See How They Ran: The Changing Role of the Presidential Candidate. Troy's column, The Ivory Tower, appears monthly in the New York-based Jewish newspaper The Forward. He has also published articles in the New York Times, Wall Street Journal, Washington Post, Newsday and the New York Post, among others. He has appeared as a commentator on most major Canadian and American television networks. He is the chairman of the Montreal birthright Israel committee.