HOME
|
The Official Gefen Publishing House Website -
One Stop Webstore for Jewish Books and Hebrew Studies Textbooks From Israel
|
Join Email
List
|
Contact
us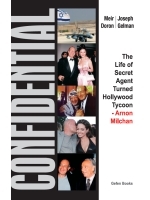 Producer of Oscar Favorite 12 Years a Slave
Confidential
The Life of Secret Agent Turned Hollywood Tycoon - Arnon Milchan
Authors:
Meir Doron
Joseph Gelman
Publisher: Gefen Books
Price: $19.95
Special Price: $12.00
Buy from Gefen for this special price!
Format:
Hard Cover
ISBN 10:
0615433812
ISBN 13:
9780615433813
Catalog Number:
g381 / 381-3
Number of Pages:
320
Year Published:
2011
Description:
CBS correspondent Dan Raviv's 21 July, 2011 interview with author Joseph Gelman;
Listen
Arnon Milchan has led a secret double life. The kind of life one would read about in a John Le Carré spy novel or in a movie made by Hollywood colleagues Steven Spielberg or Oliver Stone.
This is the story of a secret agent, of nuclear proliferation, billion-dollar high-tech defense transactions, ideology, patriotism, love, heartbreak, and the awe-inspiring Hollywood career of a mysterious mogul.
In a true story that puts James Bond to shame,
Confidential
details with nail-biting suspense how producer Arnon Milchan evolved from his youth into one of the most important covert agents that Israeli intelligence has ever fielded.
From Iran to South Africa, from Poland to Taiwan and the US,
Confidential
casts a global net to expose the legendary producer of blockbusters like
Pretty Woman
,
LA Confidential
, and
Mr. and Mrs. Smith
. Meir Doron and Joseph Gelman methodically unveil Arnon Milchan's role as a key player in many of Israel's most important intelligence operations.
Confidential is packed with stunning new revelations and opens a window into the world of a key covert operative, who evolved into a genuine member of Hollywood's royal elite.Reviews:
"Arnon is a special man. His activities gave us a huge advantage, strategically, diplomatically, and technologically. In my present position as president, I am restrained from recommending any single individual for our highest defense-related honor, but undoubtedly, Arnon Milchan is worthy of such an acknowledgment, and that's as close to a recommendation that I, as president, can give."
Shimon Peres
, President of Israel
"Never, never tell jokes about a man with easy access to weapons of mass destruction."
Peter Chernin
, former CEO of Fox Entertainment Group
"Arnon Milchan…is a loyal and generous friend who also happens to be a great long-term and trustworthy partner."
Rupert Murdoch
, CEO, News Corporation
"Compared to some of the people out there [in Hollywood], who have nothing on them but an Armani suit, Arnon is the real thing.... He spins circles around those other guys."
Robert De Niro
, Los Angeles Magazine
"Arnon has never forgotten where he came from…in the emotional, deeply personal way that he has been attached to Israel and Israeli projects. He has always remembered his country."
Benjamin Netanyahu
, Prime Minister of Israel
"Beyond the whispers and the movies, few people know of Arnon's role in supplying Israel with its defense needs, and in creating its ultimate deterrence capabilities…. For me, he is 'Mr. Israel.'"
Sumner Redstone
, Chairman of the Board, Viacom Inc.