HOME
|
The Official Gefen Publishing House Website -
One Stop Webstore for Jewish Books and Hebrew Studies Textbooks From Israel
|
Join Email
List
|
Contact
us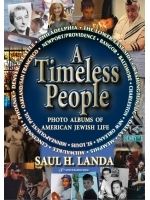 A Timeless People
Photo Tapestry of American Jewish Life
Author:
Saul Landa
Publisher: Gefen Publishing House
Price: $50.00
For this special price and shipping offer, order from Gefen
Format:
Hard Cover
ISBN 10:
9652294861
ISBN 13:
9789652294869
Catalog Number:
9789652294869
Number of Pages:
360
Year Published:
2011
Description:
In August of 1654, a few Ashkenazic Jews arrived in the Dutch colonial settlement of New Amsterdam (later renamed New York), and thus began the astonishing phenomenon of American Jewry. In this stunning book of narrative and photographs, Dr. Saul Landa gives us a glimpse of its beauty.
This book is the culmination of a four-year odyssey, visiting eighteen communities, traveling tens of thousands of miles, taking thousands of photographs, reviewing thousands of archival images, and surviving the trauma of one car accident and one traffic violation.
The communities in the book include Bangor, Baltimore, Charleston (SC), Cincinnati, Dallas, Denver, the Lower East Side (New York), Memphis, Milwaukee, Minneapolis/St. Paul, New Orleans, Newport/Providence, Oakland/San Francisco, Philadelphia, Phoenix, St. Louis, Seattle, Washington, DC.