HOME
|
The Official Gefen Publishing House Website -
One Stop Webstore for Jewish Books and Hebrew Studies Textbooks From Israel
|
Join Email
List
|
Contact
us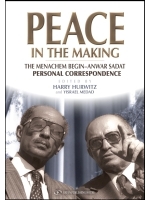 A Must Read in Light of Riots in Tahrir Square, Egypt
Peace in the Making
The Menachem Begin - Anwar Sadat Personal Correspondence
Authors:
Zvi Harry Hurwitz
Yisrael Medad
Publisher: Gefen Publishing House
Price: $16.95
Special Price: $12.00
Buy from Gefen for this special price!
Format:
Hard Cover
ISBN 10:
965229456X
ISBN 13:
9789652294562
Catalog Number:
9789652294562
Number of Pages:
384
Year Published:
2011
Description: UK readers- $30.00 including S&H
Click
here
to contact us about placing your UK order.
Publishers Present Egyptian Ambassador to Israel with a copy of Peace in the Making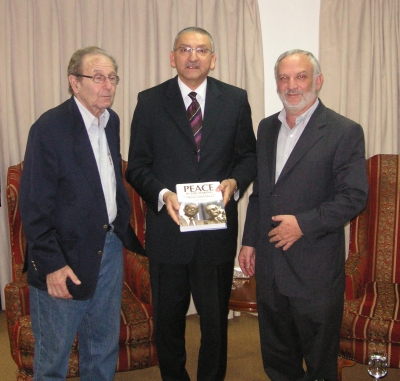 From left to right; Murray Greenfield, Founder, Gefen Publishing House. Ambassador Yasser Reda, Egyptian Ambassador to Israel, Herzl Makov, Director. Menachem Begin Heritage Center. To download the press release for this event click
here
Here, for the first time, is the complete correspondence between Israel's Prime Minister Menachem Begin and Egypt's President Anwar el-Sadat as they wrestled with what would become their Nobel Peace Prize–winning accomplishment. The letters, together with transcripts of speeches, press conferences, interviews, rare photos and official documents, reveal the personal relationship the two leaders constructed, which was eventually reflected in the treaty they signed. The personalities, the principled issues, the maneuverings, the clashes, the compromises and agreements are all revealed in these letters. Covering the period from June 1977 until a day before Sadat's assassination in October 1981, the Begin-Sadat correspondence affords a behind-the-scenes glimpse into the efforts, crises, and agonizing decisions these two leaders faced and overcame to achieve peace. Supplemented with photos and the full texts of the Camp David Accords and the Israel-Egypt peace treaty, this groundbreaking volume sheds new light on a peace process that succeeded.
Reviews:
"The letters…are instructive for the insights they reveal about the personalities and temperaments of the two men.… Verbal sparring…characterized the Begin-Sadat correspondence. Such caustic barrages, one would think, would have caused the two men to take umbrage and mount the barricades. But no. With the passage of time, they met ever more frequently, and in the process learned to respect and trust each other ever more, so that what had begun with written duels between belligerents ended in an embrace of personal friendship that ran deep."
Yehuda Avner
Former Ambassador of Israel to Britain, Ireland, and Australia, author of The Prime Ministers: An Intimate Narrative of Israeli Leadership
"Much has been written about the Camp David Peace Accords, but to actually read the personal correspondence between these two leaders adds a completely new dimension to the history of that era. It is both enlightening and inspiring."
Dore Gold
Former Ambassador of Israel to the United Nations
President, Jerusalem Center of Public Affairs
"It is crystal clear that peace could not have been achieved without the great leadership of Sadat and Begin.… This is a story about the character of the individuals. The road to peace is extremely difficult, with major risks to take and unexpected obstacles to overcome. For this, there is a need for leaders ready to set a goal and drive forcefully to achieve it, leaders who are ready to take together a major leap of faith.…"
Sallai Meridor
Former Ambassador of Israel to the United States
"Menachem Begin was a complex personality. He was at once courteous and proud, flexible yet driven. These letters provide an insight into his relationship with Anwar Sadat and the Arab world. He could see flexibility within the Arabs who were part of real historic nations. He was very wise in grasping that other Arabs would not seize the moment."
Martin Peretz
Editor in Chief, The New Republic